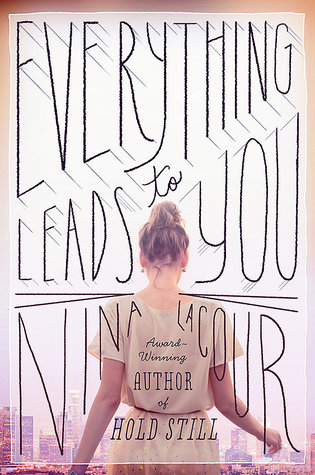 Everything leads to you
YA, LGBT, Contemporary
Dutton Books for Young Readers
May 15th 2014
Paperback, Kindle, ebook
312
A wunderkind young set designer, Emi has already started to find her way in the competitive Hollywood film world.
Emi is a film buff and a true romantic, but her real-life relationships are a mess. She has desperately gone back to the same girl too many times to mention. But then a mysterious letter from a silver screen legend leads Emi to Ava. Ava is unlike anyone Emi has ever met. She has a tumultuous, not-so-glamorous past, and lives an unconventional life. She's enigmatic…. She's beautiful. And she is about to expand Emi's understanding of family, acceptance, and true romance.
Honestly speaking I do not remember much of this book… I have my notes and guidelines that I took while reading it, but damn was it not so memorable?!
Therefore I am going to write about the things that I remember, which is not much LOL.
Sometimes you just end up reading a book that leaves you with nothing, it is like you did enjoy it during the read, but now about 3 weeks have passed since I finished it and I CANNOT RECALL WHAT I READ!!
Aaaanyways…
The only thing that stuck with me from this book, is probably all the art and movie making process stuff. As an artsy person myself, I found these aspects great and loved the way they were delivered to the reader. Personally I cannot tell if the information was accurate, but still it was enjoyable to read and get to know more about the people working behind the scenes in order to make what we see in the big screen looks as it is. So this was a huuge plus, that I very much enjoyed.
Another thing I appreciated (from what I can remember) was the diversity  here, which is alwaysss appreciated!!
If you don't want to engage much and you are into some light reads, then you would most certainly end up liking this book. Hopefully you will end up remembering much more than I did and it might turn out to be exactly your thing.Which in my case it wasn't unfortunately.
Overall I did gave it 3 stars at the time, but now that I had the time to think about the things that stuck with me and what this book left me,  I dropped the vote down to 2 stars. I did enjoy it, it just was not special and not a book that gained a place in my heart to say.