Hello there!!!
Today I have smol reviews that I wish to share with you for the book I have read thus far in 2018!!
But before that, I would like to provide you with some updates about my mundane life… I know I have disappeared for a while from the book community, but when you try to adult you gotta adult properly. You know all that stuff with overworking, being super busy, dress, wash, sleep, cleaning… you know how it goes… I am fine though >.>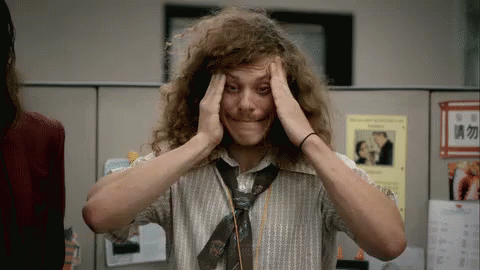 Anyway here we go from the most liked to the least liked:
FIVE STARS BOOKS:
The Girl from the Other Side: Siúil, a Rún Vol. 1
The Girl from the Other Side: Siúil, a Rún Vol. 2
by Nagabe
Synopsis: 
Once upon a time…
In a land far away, there were two kingdoms: the Outside, where twisted beasts roamed that could curse with a touch, and the Inside, where humans lived in safety and peace. The girl and the beast should never have met, but when they do, a quiet fairytale begins.
This is a story of two people–one human, one inhuman–who linger in the hazy twilight that separates night from day.
Review:
If you are looking for something different, dark, touching, and a bit weird then this is your choice.
The art is amazing, the message behind the whole story is heart-warming and heartbreaking at the same time. It might not be love at first sight, but I highly recommend it if you are a manga lover!
Shiva is soo sweet and her Teacher is just awesome! You need to read it ok? OK!
It is still ongoing, so I will definitely be reading it.
Synopsis:
"Once there was a cat named Shoo. Shoo had no home and she was very sad. She lived on a sidewalk, and ate things people threw away."
Review: 
Now was this the sweets and heart warming story!! It is very fast read, that will brighten up your day and will leave you with good vibes.
The illustrations are adorable and it is perfect for children aaaand grown ups like myself!!
Adulthood Is a Myth (Sarah's Scribbles #1)
Synopsis:
Do you enjoy networking to advance your career?
Is adulthood an exciting new challenge for which you feel fully prepared?
Ugh. Please go away.
This book is for the rest of us. These comics document the wasting of entire beautiful weekends on the internet, the unbearable agony of holding hands on the street with a gorgeous guy, dreaming all day of getting home and back into pajamas, and wondering when, exactly, this adulthood thing begins. In other words, the horrors and awkwardnesses of young modern life.
Review: 
I laughed, I felt understood and I related to this more than I thought I would've. I read other book-comics by Sarah and I love her art, her intelligence and the way she makes something soo sad or oppressing for some become something you just need to shrug off and move on!
FOUR STARS BOOKS:
Everyone's a Aliebn When Ur a Aliebn Too
by Jomny Sun
Synopsis: Here is the unforgettable story of Jomny, an alien sent to study Earth. Always feeling apart, even among his species, Jomny feels at home for the first time among the earthlings he meets. There is a bear tired of other creatures running in fear, an egg struggling to decide what to hatch into, a turtle hiding itself by learning camouflage, a puppy struggling to express its true feelings, and many more.
The characters are unique and inventive—bees think long and hard about what love means, birds try to eat the sun, nothingness questions its own existence, a ghost comes to terms with dying, and an introverted hedgehog slowly lets Jomny see its artistic insecurities. At the same time, Jomny's curious presence allows these characters to open up to him in ways they were never able to before, revealing the power of somebody who is just there to listen.
Everyone's a Aliebn When Ur a Aliebn Too is also the story behind the widely-shared and typo-filled @jonnysun twitter account. Since the beginning, Sun intentionally tweeted from an outsider's perspective, creating a truly distinct voice. Now, that outsider has taken shape in the character of Jomny, who observes Earth with the same intelligent, empathetic, and charmingly naïve voice that won over his fans on social media. New fans will find it organic, and old fans will delight at seeing the clever words that made them fans in the first place.
Through this story of a lost, lonely and confused Alien finding friendship, acceptance, and love among the animals and plants of Earth, we will all learn how to be a little more human. And for all the earth-bound creatures here on this planet, we will all learn how sometimes, it takes an outsider to help us see ourselves for who we truly are.
Basically this summarizes it all, it is soo precious book and I recommend it to all big or smol!! The coolest thing about it is that at the very end of the book you have the Log history of Jimny during the time he spent on the Earth and it is sooo precious so read ittt!!
THREE STARS BOOKS:
Herding Cats (Sarah's Scribbles #3)
Synopsis:  Sarah valiantly struggles with waking up in the morning, being productive, and dealing with social situations. Sarah's Scribbles is the comic strip that follows her life, finding humor in living as an adulting introvert that is at times weird, awkward, and embarrassing.
Review: 
Although I loved the first book in this series I could not relate as much with this one. However this does not diminish the fact that I enjoyed it. As always awesome art and stuff pretty much all can relate to.
TWO STARS BOOKS:
by J.Y. Yang
Synopsis: 
Xin is an ansible, using her song magic to connect the originworld of the Imperial Authority and its far-flung colonies— a role that is forced upon magically-gifted women "of a certain closeness". When a dead body comes through her portal at a time of growing rebellion, Xin is drawn deep into a station-wide conspiracy along with Ouyang Suqing, one of the station's mysterious, high-ranking starmages
At the Publisher's request, this title is being sold without Digital Rights Management Software (DRM) applied.
Review:
Unfortunately, for how much I wanted to love this books it just did not work out for me. It was very confusing and I had to re-read most of the phrases in order to understand what it is supposed to mean to no avail. The idea behind the story was really great, not to mention the Lgbt characters that I really loved.
Oh well, some books simply do not click with you…
This is it from me for now! Have a happy reading <3