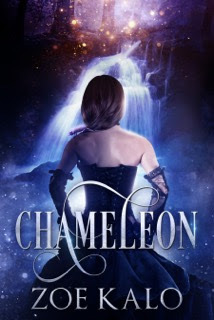 Chameleon
Fantasy, Paranormal
Createspace Independent Publishing Platform
February 7th 2017
Ebook, Paperback, kindle
250
An isolated convent, a supernatural presence, a dark secret…


17-year-old Paloma only wanted to hold a séance to contact her dead father. She never thought she would be kicked out of school and end up in an isolated convent. Now, all she wants is to be left alone. But slowly, she develops a bond with a group of girls: kind-hearted Maria, insolent Silvy, pathological liar Adelita, and their charismatic leader Rubia.
When, yet again, Paloma holds a séance in the hope of contacting her father, she awakens an entity that has been dormant for years. And then, the body count begins. Someone doesn't want the secret out…

Are the ghost and Paloma's suspicions real—or only part of her growing paranoia and delusions?
When you get close to people, you end up getting hurt
Could't agree more with this I would call fact. And Paloma found out this for herself in this intriguing, breath taking yet scary story.
The review spoiler free
Since the beginning I was hooked. I loved the suspense and the atmosphere this book managed to create in my imaginary world and teleport me into the convent with Paloma the other girls and the nuns.
The writing style was really engrossing and it pushed me to turn on the pages and solicited my curiosity to find what actually is happening, why did Paloma is trying to contact her father why the deaths and many other questions that I needed to be answered right away!
What I liked
The writing style, this was the thing that impressed me the most. It was fluent and enchanting
The mystery and suspense that kept you wanting to discover what is going on
The characters with mental health issues, as I am very interested in this topic I totally appreciated that there was diversity and people of this spectrum were given a spot
The way how the author represented the "religious" part of the story with its dirty secrets that are a tabu none dares to speak about even though it is very subtle in this book
The cover!! Although I must say it is bit "misleading" BUT still gorgeous
The creepy feelings you get when watching a horror movie (do not get me wrong the book is far from THAT kind of scary, but still it has its moments of terror)
At some point I thought that this book would make a very good horror/suspense movie that I would absolutely would enjoy watching.
What I disliked
The way how some of the scenes were represented was a bit off for me and I felt like there could have been something more to them to make it more easy for you to imagine and picture what exactly is happening
The lack of more details and elements, I mean I would have loved it very much if there was something more to certain dialogues and descriptions
The ending… yes it was a bit disappointing for me and I was expecting a closure, but it was not the case
SPOILERS!!!!
Let's talk about Rubia!! This is one of the leading and I would say most important characters of the story and since the very beginning I felt she was wayy too offf!!! And I was totally right… Zoe did an amazing job portraying her mental illness in such a mind blowing and engrossing way that at some point I was wonder if I am not mistaken about my first impression of Rubia!!
Well done Zoe, well done.
I was totally shocked to find out that the Madre Superiora was actually Rubia's mother did not see this one coming and I enjoyed this turn of events.
Conclusion
I rated the book with 4 starts out of 5. I enjoyed it and absolutely do recommend it, very fast and pleasant read!
ABOUT THE AUTHOR
A certified bookworm, Zoe Kalo has always been obsessed with books and reading. Reading led to writing—compulsively. No surprise that at 16, she wrote her first novel, which her classmates read and passed around secretly. The pleasure of writing and sharing her fantasy worlds has stayed with her, so now she wants to pass her stories to you with no secrecy—but with lots of mystery…
A daughter of adventurous expats, she's had the good fortune of living on 3 continents, learning 4 languages, and experiencing a multicultural life. Currently, she's working on a Master's degree in Comparative Literature, which she balances between writing, taking care of her clowder of cats, and searching for the perfect bottle of pinot noir.
FIND ZOE ON:
GOODREADS/WEBSITE/TWITTER/FACEBOOK
FIND THE BOOK ON
A big Thank you to B00k R3vi3ws for this opportunity!