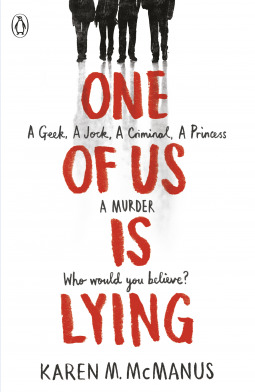 One Of Us Is Lying
Mystery, YA,
Penguin
June 1st 2017
Ebook, Paperback, Hardback, Audiobook
360
Netgalley
Pay close attention and you might solve this.
On Monday afternoon, five students at Bayview High walk into detention.
Bronwyn, the brain, is Yale-bound and never breaks a rule.
Addy, the beauty, is the picture-perfect homecoming princess.
Nate, the criminal, is already on probation for dealing.
Cooper, the athlete, is the all-star baseball pitcher.
And Simon, the outcast, is the creator of Bayview High's notorious gossip app.
Only, Simon never makes it out of that classroom. Before the end of detention Simon's dead. And according to investigators, his death wasn't an accident. On Monday, he died. But on Tuesday, he'd planned to post juicy reveals about all four of his high-profile classmates, which makes all four of them suspects in his murder. Or are they the perfect patsies for a killer who's still on the loose?
Everyone has secrets, right? What really matters is how far you would go to protect them.
Just one word WOW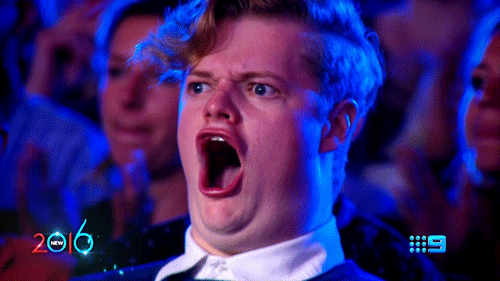 This one word summarises all my feels and thoughts about this book.
I don't even know from where to begin with, the plot the characters the surprises omggg I can't choose…
This book will keep you awake till down, it will enchant you and it will suck the life out of you just like a dementor does (here an example if you have no idea what I am blabbing about)
Of course not in a bad way, what I mean to say is that you MUST read this book, I don't care if you have to steal it or you need to rob a bank to get the money you just MUST. Trust me it is sooo goood that I think I might be addicted to it, can you get book addicted?? Is there a cure? Yes there is re-read the book over and over again. It is one of those rare books that no matter how much you re-read them they never get boring and they never lose their grip on you.
Ok I probably got off topic, but you see it is not my fault that Karen wrote such a brilliant book. It is on you Karen!!
The Review (Spoiler Free)
All the mess started with the death of one of the students, and the story unfolds as we read it from 4 different points of view Bronwyn, Cooper, Addy and Nate as they all were together with Simon before he died.
We got Bronwyn the typical all straight As girl, from a good wealthy family, Addy the type of girl you will find hanging out with the cool people at school, Cooper the perfect guy everybody likes and wants and Nate the outcast, drug dealer with criminal record.
Is this enough for you to figure out who is lying and who killed Simon?
Nah, this information is not enough to even make a character judgement. You never know a person well enough trust me, this book is a perfect example of that.
You will discover things you never even suspected nor see any tiny possibility of happening. The brilliant thing about this story is how real all the characters are and that this situation might happen in the "real world". Everybody has his secrets, things they are ashamed of, things they are afraid of, things they want none else to find out, perhaps things that if exposed might lead to a murder? (you would have to read the book to find this out muahhaha)
I loved reading all 4 POVs, but my favourite was Nate and Cooper. All characters will surprise you and will leave you with your mouth wide open wondering how you did not see this one coming or even better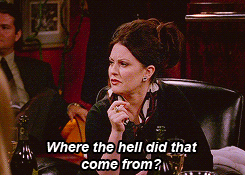 expression… yep this was my exact reaction where some things emerged out on the surface…
I gave this book 10 out 5 stars and I can say that it was ONE OF THE BEST BOOKS IN 2017 I HAVE READ SO FAR!
ABOUT THE AUTHOR
Karen M. McManus earned her BA in English from the College of the Holy Cross and her MA in journalism from Northeastern University. Her debut young adult novel, ONE OF US IS LYING, will be released from Delacorte Press/Random House on May 30, 2017. It will also be published internationally in 18 territories including the United Kingdom, Australia, Germany, France, Spain, Italy, The Netherlands, Sweden, Norway, Indonesia, Brazil, Turkey, Russia, Poland, the Czech Republic, Romania, Serbia, and Slovakia.
To learn more visit www.karenmcmanus.com, or follow @writerkmc on Twitter.
A big thank you to Netgalley and the publisher for this opportunity!